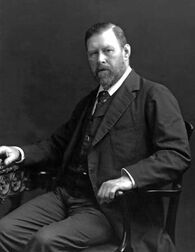 Bram Stoker (November 8 1847 - April 20 1912) was an Irish novelist who wrote the novel "Dracula". He was the manager of the Lyceum Theather in London and was personal assistant to Victorian actor Henry Irving. From mid 1890 untill 1896  Stoker wrote "Dracula". To do this, he visited Transylvania and Whitby. Stoker was married to Madam Florance Balcombe (1858-1937) and gave birth to a son Irving Thornley Stoker in 1879. "Dracula" has been a staple of modern gothic culture since it's release a hundred-and-sixteen years ago. Many times it has been adapted, and it is held as a classic staple of literature. As a child, Bram Stoker was often ill and his mother used to tell him  ghost-stories. This (and a nightmare he  once had) inspired him to write his horror masterpiece. Other novels he wrote never reached the level of infamy that "Dracula" did. In 1910 he wrote a collection of short stories titled "Dracula's Guest"
On April 20 1912 Bram Stoker past away at the age of 64. He continues to be remembered to this day for the legacy he left. 
Since 1987 the "Bram Stoker Award" is given to horror writers. 
In 2009 his distant relative Drace Stoker wrote an official sequel: "Dracula The Un-Dead".