We're Getting Mutants in the MCU - The Loop
Play Sound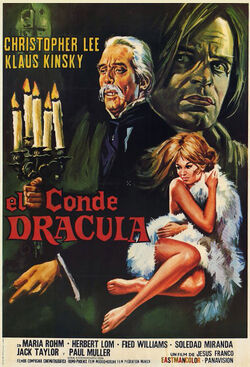 "Listen to them, the children of the night, what music they make." 
- Dracula to Jonathan Harker 
Count Dracula is a 1970 low-budget gothic adaptation of the Bram Stoker novel "Dracula" directed by Spanish cult director Jess Franco and produced by Alexander Ha Coen. It was the first attempt to follow the novel as closely as possible.
The film stars Christopher Lee as Count Dracula who portrayed the count in the Hammer Productions previously. The music was composed by Bruno Nicolai and further starred the late character actor Herbert Lom, Fred Williams, Soledad Miranda, Maria Rohm, Paul Muller, Klaus Kinski and Jack Taylor. 
Plot 
[
]
In 1893, Jonathan Harker, an English solicitor travels to Bistritz, Transylvania to the castle of Count Dracula a nobleman client who has bought an estate in London and he is going to assist with paperwork. On the train he meets a local gentleman who warns him of the dangers of the castle and that he may need God's help.
Harker rests at a local inn where the wife of the tavern-holder warns him that tomorrow night is St. Georgia's night and that all the evil of the world will be set free. The next evening he boards a coach and as night falls is dropped of at the Borgo-Pass. The Count's carriage arrives and the mysterious coachman takes him to the majestic castle. There he is greeted by Count Dracula, an elderly man, dressed in black with a giant grey mustache - wielding a candle with polite, when he brings Jonathan to his room he casts no reflection in the mirror. Dracula does not dine and looks over the paperwork and decides "Carfax" an old house in need of repair, that'll be his new home.
He tells Harker the history of his race and that he's the decedent of Atilla. Harker discovers long and sharp canines the Count has. Jonathan goes to bed, as he looks outside he sees a group of gypsies filling coffins with earth. Then, he suddenly is attacked by a bat. He wakes in an ancient crypt where he is seduced by three beautiful vampiresses. Dracula rushes into the room in a rage and orders them to leave Harker alone. Dracula explains, "This man belongs to me," then gives the vampiresses a baby to feed on. Harker wakes up screaming in his room and assumes it was a nightmare, but two small wounds on his neck indicate otherwise. Jonathan awakes the next evening thinking it was a nightmare. He does see two peculiar wounds on his throat. When he looks outside, he sees Dracula standing up a hill. Suddenly the count is gone and a bat flies away. Jonathan goes to investigate later and finds the same crypt. Here he sees a fourth tomb which is made out of stone. As he opens this tomb he finds Dracula lying in it with blood at his lips and his eyes open. Frightened, Jonathan escapes the castle by jumping out of a window.
When he regains consciousness, he lies in a hospital bed. A man by the name of Dr. Seward tells him he is in the Private Clinic of Professor Van Helsing not far from London. Jonathan paranoid and traumatized screams to Dr. Seward that Dracula followed him to England with the coffins disguised as a giant bat. Prof. Van Helsing, a Dutchman with a grey beard and serious eyes goes to examine him and sees the strange bite-wounds on Harker's neck as well.
Meanwhile, Dr. Seward goes to visit R.M. Renfield a mentally disturbed man who cannot speak and eats flies and spiders. Later, Jonathan's fiance Mina Murray and her beautiful best friend Lucy Westenra arrive at the clinic by coach to see and nurse Jonathan. Mina is worried and sits at Jonathan's bedside. Lucy hears Renfield scream and passes out from sudden shock.
As Prof. Van Helsing lays to rest the ladies he tells them that he is worried about Lucy's condition and prepares rooms. Mina ensures Van Helsing that Jonathan is sane.  
At night as Lucy lays in bed, a seductive voice whispers her name as a bat flies in circles in front of the window. She is lured out of bed and in an hypnotic state goes to sleepwalk. Mina goes to check on her and sees she is not there, she follows her downstairs as Lucy wanders into the garden. Mina follows her into a runic where she sees Lucy being touched by a figure. Dracula who bites Lucy and drinks her blood, sees Mina and disappears from sight. Mina hurries to Lucy who has lost much blood and is weakened to a large extent.
She is brought back to the clinic where Dr. Seward sees the two wounds on her throat also. Prof. Van Helsing examines Jonathan's papers. Mina thinks the wounds appeared by accident. Dr. Seward tells Mina to send a telegram to her loved ones. Soon, the American Quincey Morris, Lucy's fiance a handsome young-man arrives at the clinic. Prof. Van Helsing demands Quincey give Lucy a transfusion of his blood which he does. With the new blood Lucy has a change of survival.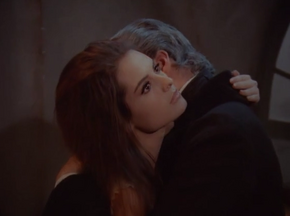 That night, while Quincey sleeps Lucy hears the voice again and the bat has returned. Lucy gets out of bed and opens the window. Suddenly Count Dracula enters. He moves towards Lucy's neck and bites it with his sharp teeth. He drinks her blood and leaves the room as the bat again. Lucy collapses out of blood loss.
Quincey wakes and lays Lucy back in bed. Jonathan wanders throw the hallways of the clinic and hears Renfeild crying at night.
The next day, Prof. Van Helsing tells Mina, Quincey and Dr. Seward the history of Renfield. A once sane man who lost his daughter when she suffered blood loss at the hands of a mysterious being of the night.
Renfield was driven mad and Prof. Van Helsing dedicated his life to studying the "black arts". When Jonathan enters Van Helsing refuses to say more. Meanwhile, Renfield grows more frightened. The estate next to the clinic is Carfax the resting place of  Dracula. Here Dracula wakes in his coffin. Dracula appears in the window psychically communicating with Renfield. Renfield tries to keep away the Count's influence. Dracula commands him to jump out of the window and unable to resist Renfield jumps out of his cell.
Mina takes loving care of Lucy who has lost most of her memory and ability to speak. Mina is lured away from her friend as the bat returns. Dracula once more enters Lucy's chambers and seduces her. He bites Lucy for the final time and drains her of her last blood. Mina enters and catches the vampire in the act. Dracula with blood around his mouth, sharp teeth and red eyes flees. Mina is unable to save Lucy as Quincey and Prof. Van Helsing enter. Lucy is dead. Later that evening, the group: Jonathan, Mina, Quincey and Dr. Seward gather in the study.
The professor tells them that Dracula has lived for dozens of years, he has been active all over the world to spread the curse of the vampire he can grow younger as well control animals and turn into them. The next day, the attend Lucy's funeral. Lucy is buried in a crypt. That evening a child goes missing, lured away by Lucy.
Some time later, when Mina brings in breakfast for the professor, Van Helsing lays eyes on a newspaper article concerning the child's dead near the Church. Jonathan and Quincey enter. Prof. Van Helsing asks them to accompany them to Lucy's grave that evening. He tells Quincey Lucy has murdered the child and is not among the living or dead anymore. Quincey calls him mad. That night, they enter Lucy's crypt.
They open her coffin finding it empty. At sunrise, the men enter the crypt again. They open it again and find Lucy with sharp canine teeth and blood around her mouth. Prof. Van Helsing takes a sharp wooden stake and a hammer.
He places the hammer over the heart and drives it throw it with the hammer. Quincey uses his spade to drive it deeper into her and decapitate her head. Lucy's spirit is saved. At that same time, Renfield goes insane and Dr. Seward holds him down telling him: "It's past." Dr. Seward asks Renfield to tell him what he knows but Renfield is unable.   
The next evening, Jonathan remembers the coffins brought to the Carfax estate. Jonathan and Quincey go to the house to sanctify the coffins. Quincey brings his pistol but the professor hand them two crucifixes. Against the cross Dracula is powerless. Mina asks Van Helsing if she may visit Renfield as he may be the key to the Count. When they have all left, Prof. Van Helsing falls suffers a fatal stroke which makes his legs in-usable. Dracula has done this to him with his mental powers. Jonathan, Quncey and Dr. Seward enter Carfax to sanctify the cases. Suddenly it begins to storm and thunder heavily. The stuffed animals there attack them and Quincey begins to shoot.
Mina visits Renfield and wishes for him to tell her more. Suddenly, Dracula - now having black hair and a black mustache grown young - commands Renfield to: "Kill!" Renfield attempts to strangle Mina but at Carfax Jonathan shows Dracula his golden cross which repels him and scares him away. Renfield is restrained in a straight jacket.   
Mina and the group arrive at an opera in the city. Prof. Van Helsing is now bound to a wheelchair. The secretary has promised he will keep a close watch on every exit from England. Jonathan sees the younger Count walk throw the streets. At the opera, Dracula confronts Mina and bites her. As Jonathan neither Quincey remember they sent a ticket, they hurry to the opera where they find Mina victimized by Dracula. Meanwhile, Dracula himself approaches the captain of a sail-ship "Sarina Catherine" in the harbor and commands him to escort him to Varna, near the Danube to Varna taking the case with him. Meanwhile Dr. Seward goes to Renfield who whispers the word "Varna" to him. At the clinic, Prof. Van Helsing tells Jonathan and Quincey they can get to the castle before the Count arrives.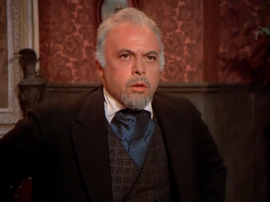 The Count psychically kills Renfield for betraying him. Van Helsing promises he will guard Mina with his life. As the two men bound for the castle in Transylvania, Mina sleeps on the sofa. Count Dracula enters himself finally confronting Van Helsing. As Count Dracula whispers to Van Helsing that he has learned much, but can do nothing and moves to bite Mina, Van Helsing uses a pin in the fireplace, drawing a cross out of fire on the carpet. Dracula is repelled and is forced to flee into the fog, heading for his castle. 
A few weeks later, a group of loyal gypsy servants singing wielding torches escort Dracula's coffin to the castle. Jonathan and Quincey enter the castle and find the dining room as well as Dracula's tomb abandend. They enter the crypt and find the three coffins. They open them and the three vampire women are found inside. Jonathan and Quincey drive wooden's stakes throw the hearts of the vampire women - screaming and squirting blood - and destroy them. Jonathan sanctifies Dracula's tomb so he can not re-enter.
In London, Mina asks Van Helsing why they should fear if Dracula is on his way home. Prof. Van Helsing says that as long as the Count lives time and space have little meaning. Later, in at the castle, Jonathan and Quincey climb up the castle wall and see the group of gypsies approaching. The two men drop giant stone boulders from the wall attacking the gypsies. As chaos breaks loose, the gypsies flee the coffin.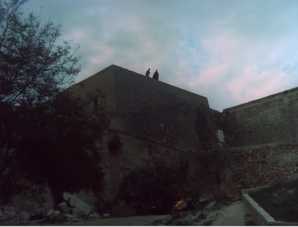 Jonathan Harker and Quincey Morris go to the carriage and break open the wooden case. They find Dracula inside. Dracula wakes looking hatefully at them. However, it is day and the Count is unable to move. Quincey gets a burning torch carried by one of the gypsies and lights Count Dracula on fire. As the flames begin to consume the vampire horrible moans rise from the coffin. Count Dracula's flesh begins to burn away.
Dracula is destroyed. Only a smothering corpse-like skeleton remains. With their final strength, Quincey and Jonathan push the casket from the wall, and watch how the fire grasps fate below and how the Prince of Darkness, Count Dracula finally is gone and smothers away in the fire. Now they can return home, to Prof. Van Helsing and Mina...
Cast
[
]
Count Dracula.........................................................................................................................Christopher Lee
Prof. Van Helsing.......................................................................................................................Herbert Lom
Jonathan Harker.........................................................................................................................Fred Williams
Mina Murray...............................................................................................................................Maria Rohm
Lucy Westenra.......................................................................................................................Soledad Miranda
Dr. Seward...............................................................................................................................Paul Muller
R.M. Renfield..................................................................................................................Klaus Kinski
Quincey Morris.................................................................................................................Jack Taylor
Production 
[
]
"Count Dracula" was directed by Spanish cult director Jesús "Jess" Franco (1930 - 2013), known for directing lightly erotic bizarre and very low-budget productions. He is best known for: "Vampyros Lesbos" (1971) and "Dracula Contra Frankenstein" (1972). He had worked with Christopher Lee previous in "Castle of Fa Manchu" (1969).
Franco set out to create an adaptation which was as faithful as possible to the original 1897 Bram Stoker novel. Christopher Lee was not intrested to reprise the role, but accepted after hearing it would be more faithful to the source material. It was produced and presented by Alexander Ha Coen and the music was composed by Bruno Nicolai.
The film was shot in 1969 and released the following year in 1970.
It was a complicated Italian/West German co-production. It has been titled diffrently all over Europe. In Spain it was known as: "El Conde Dracula" in Italy as: "Il Conte Dracula", in France as "Les Nuits De Dracula" (translated to: "The Nights of Dracula")  and in Germany as: "Nachts, Wenn Dracula Erwacht." (translated to: "At Night, When Dracula Awakes") In some parts it stayed close to the novel, but changed quite a few things. A truly faithful adaptation wouldn't come around until the 1977 BBC miniseries Count Dracula with Louis Jourdan in the title role.
Soledad Miranda died in a car accident shortly after the film had premiered on May 3, 1970. 
Diffrences from the novel 
[
]
Some notable diffrences from the novel are:
The majority of the mid-section takes place in Prof. Van Helsing's clinic 
The boat travel on the "Demeter" is excluded. 
The character of Arthur Holmwood is excluded, instead Quincey Morris replaces him as Lucy's fiancee. 
Dr. Seward has no romantic intrest in Lucy. 
Renfield is given a larger backstory and is driven mad under Dracula's influence. He is also a mute. 
Mina has no hypnotised connection to Dracula.
Van Helsing suffers no stroke due to Dracula once whoever. 
Dracula is destroyed by fire, and not by knives. 
Prof. Van Helsing or Mina do not accompany Jonathan and Quincey to Transylvania
Home video releases 
[
]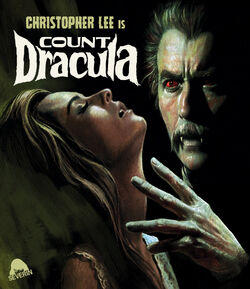 DVDs

[

]
"Count Dracula" was released on Special Edition DVD in February of 2007. It contained a digitally restored version with the Spanish titlez and the French title screen. As extra's it feauteres Christopher Lee reading Bram Stoker's novel as audio track, a still gallery, an interview with Jess Franco and an essey on Soledad Miranda. 
The German edition of the DVD: "Nachts, Wenn Dracula Erwachts" includes a scene absent from the English verison, of a woman crying for her baby.
Blu-ray

[

]
Severin Films will release a blu-ray version of the film new bonus features. The missing footage from the DVDs will be included.
Gallery
[
]
Photos
[
]
Screencaps
[
]
Posters
[
]
[

]
Count Dracula (1970)
Movies

Count Dracula (1970)

Characters
Actors
Main Crew