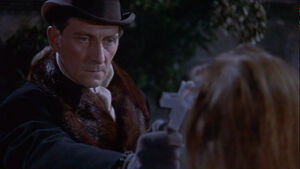 "
Please try and understand, this is not Lucy the sister you loved. It's only a shell possesed and corrupted by the evil of Dracula
." 
- J. Van Helsing to Arthur Holmwood 
Doctor J. Van Helsing was an English medical doctor of Dutch decent who was an expert on the study of the undead. He  was the college and  tutor of Jonathan Harker and mortal enemy to Count Dracula. 
Biography 
Edit
J. Van Helsing was born in London as son of a Dutch mother. J is a descendant of Lawrence Van Helsing I, the first known member of the family to slay Dracula, in 1872.
During his college years, Van Helsing learned of the vampire, the unholy creature of the night which feeds on human blood. He decieded to make the study of these creatures his lifeswork. He tutored at an Institute in London. One day, he and his gifted college and freind Jonathan Harker  tracked down the resting place of a Count Dracula supposedly the most cruel and powerful of vampires who had lived for four hundred years. Van Helsing recorded all known about the vampire on his phonograph and wrote it down in several notebooks. He and Jonathan Harker found Dracula's castle layed just out of Klausenberg in Transylvania. Harker left for Klausenberg at the end of March 1885. He never returned... 
A few days later, Dr. Van Helsing travelled to 
J. Van Helsing is the equivalent of Abraham Van Helsing in the Hammer Dracula franchise.
Van Helsing's first initial can be seen on his bag of tools.
External links
Edit