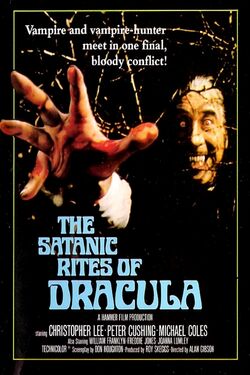 The Satanic Rites of Dracula was a film made in 1974. It was the sequel to Dracula A.D. 1972 and was followed by The Legend of the 7 Golden Vampires.
Peter Cushing as Lorrimer Van Helsing
Michael Coles as Inspector Murray
William Franklyn as Peter Torrence
Joanna Lumley as Jessica Van Helsing
Richard Vernon as Colonel Matthews
Barbara Yu Ling as Chin Yang
Freddie Jones as Dr. Julian Keeley
Maurice O'Connell as Agent Hanson
Richard Matthews as John Porter MP
Patrick Barr as Lord Carradine
Lockwood West as General Sir Arthur Freebourne
Peter Adair as Doctor
Valerie Van Ost as Jane
Maggie Fitzgerald, Pauline Peart, Finnuala O'Shannon, and Mia Martin as Vampire girls
Marc Zuber, Paul Weston, Ian Dewar, and Graham Rees as Gaurds
Community content is available under
CC-BY-SA
unless otherwise noted.